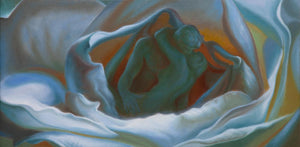 1 - The Unfolding Kiss - Oil Painting Study - SOLD
The Unfolding Kiss - Study
This is a study for a much larger piece I'm working on. It's the first in a series of works where I aim to marry my floral and figurative paintings, creating a new body of work. 
 
Size: 60x30cm
oil on canvas 
Unframed
 
Price:
Full Price - 950 Euro
Framing will add 100 Euro to the price.
This painting is now SOLD
For more information about this painting click here below to my blog post
Blog post about my painting The Unfolding Kiss: A Study
vincentkeeling@gmail.com