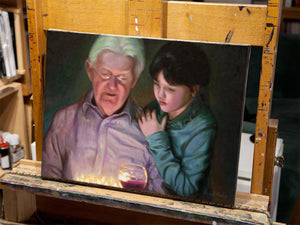 Portrait of Granddad and Granddaughter
This was a lovely little portrait commission of a Granddad and Granddaughter at a birthday celebration. 
Notes:
The painting was from a really nice photo, but there were a few little adjustments I had to make. Firstly, there were other people crowding into the shot, so these were removed to keep the focus squarely on the two main figures. And secondly, I added a little more punch to the birthday candles, which were slightly hidden out of frame.  
Oil on canvas 
40x30cm or 16x12 inches
For enquiries about getting something similar done, or another project you have in mind, please feel free to email me at
vincentkeeling@gmail.com
The second best way to get me is to message me on facebook
https://www.facebook.com/VincentKeelingArt/