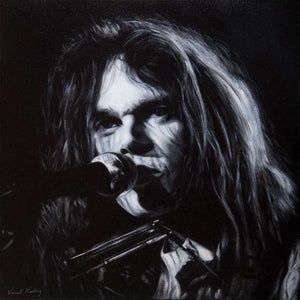 Neil Young - Limited Edition Print
NEIL YOUNG
Signed limited edition print, from an oil painting, by Vincent Keeling
Edition of 200, Archival museum quality, Giclée print


SIZES:
Small Unframed - Image 15x15cm - Mount 30x30cm 
Small Framed - Image 15x15cm - Frame 33x33cm 
Medium Unframed - Image 24x24cm, Mount 40x40cm 
Medium Framed - Image 24x24cm - Frame 43x43cm 
Large Unframed - Image 34x34cm (No mount included on this size, and no framing option.)
WHAT'S INCLUDED WITH THE UNFRAMED PRINTS? 
It's worth noting that for both the Small and Medium "unframed print" options the prints include the same lovely high-quality double mounts and backing board, that you receive with the framed prints. 
However, do note that this is not the case with the large print option. I decided to do away with the mount at his larger size as the shipping costs got a bit much. Then again, I do enclose these large prints in a protective plastic envelop (also used on the small and medium), placed onto a nice backing board which keeps things flat, and then finally protected in heavy cardboard packaging that I use to ensure all prints arrive safe and sound.
PHOTOS 
If you want to see a photo of how the framing looks just click into another famous face prints such as Leonard Cohen or Bruce. 
Print Details
Delivery Rates & Times