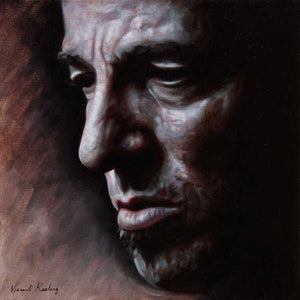 Bruce Springsteen (Long Walk Home) - Oil Painting
BRUCE SPRINGSTEEN, LONG WALK HOME
Ok folks, this is a big statement but out of all of the paintings of Bruce I've done, I think this is my favourite, and for that matter, might even be my favourite portrait I've ever painted, although my Seamus Heaney might just pip it, might.
Part of reason I'm so proud of this painting of Bruce is that I managed to loosen up my brushwork, which I think gives it this extra sense of life and energy. Also there's something about the very angle of his face here, almost in profile and close before out eyes, which gives Bruce this monumental quality.
It's kind of like he's been carved out of a mountain with rugged crack and fault lines speaking of a life deeply lived and felt. Anyway, something about that just feels right to me in trying to express the power of the man and his music.
Of course, the original painting is sold now, and in truth this is one I wouldn't have minded hanging on to, but the good news is I do have limited edition prints still available.  If you want to check out my full list of Bruce paintings and prints just click on this.
Thanks for reading! Vincent Keeling
Painting details:
Original oil on linen
by Vincent Keeling
Canvas 40x40cm 
SOLD