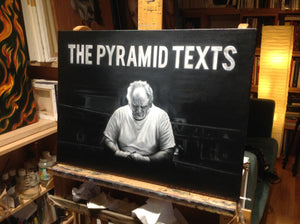 The Pyramid Texts
This is a painting of the cover poster for the acclaimed film, "The Pyramid Texts". It was commissioned as a gift for the BAFTA winning writer, Geoff Thompson, who worked in collaboration with directors Ludwig and Paul Shammasian on the project. Paul Shammasian also took the photograph which I used as a reference for the painting; a beautiful shot, making my work all the easier. The film, and indeed the photograph and painting, also starred the well known actor James Cosmo, whose role here, won him "The Best Performance in a British Film" at the 2015 Edinburgh Film Festival. 
For or information about this wonderful film click below.
Notes:
This was a wonderful project, in that I got to be involved in the movie business, albeit at quite a remove. However, it was great to think that painting would end up in the hands of a well known screenwriter, with prints also going to the Shammasian brothers and actor James Cosmo, who will, forever be in my mind, as that hardy force of nature in Mel Gibson's Braveheart. He played the father of Brendan Gleeson's character for those of you who need your memories jogged. 
Oil on canvas
55x40cm - 22x16 inches
For enquiries about getting something similar done, or another project you have in mind, please feel free to email me at
vincentkeeling@gmail.com
The second best way to get me is to message me on facebook
https://www.facebook.com/VincentKeelingArt/
For a general price list and more info click here!